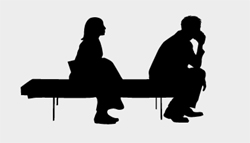 In every relation there comes a time when you wish to take a break and say, hey, "I need some space". We do tend to believe that taking a break will hopefully make things better and maybe the other person will realize your importance when you are not around. But have you ever wondered that taking a break might be a sign of running away from some critical issues which will still be present when you get back together?
It is not only about the relationship between couples but it can be applicable to any relation. You might want to take a break from your parents, siblings, friends, boss, for that matter anyone. I have personally found myself in situations when I feel it's enough, let me just go away to a place where I can be away from all the hassles. On one hand, it can be a sign of wanting to simply take a break from the routine or on the contrary it could be an easy way of running away from problems instead of facing them.
I do personally feel that taking sometime alone is not problematic for a relation as it can give one time to retrospect and analyze the issues causing the tension. But there are certain rules for taking a break to make sure it is the right thing to do.
Breaks are not quick fixes.
While taking a break might sound as a tempting solution for running away from the daily chaos, every couple needs to realize that it is not a substitute for solving the issues. If you part with the problems looming in between, they will not vanish on their own once you come back. It is important to talk about the issues and then mutually decide whether a break is the best for the relationship or not. Many people can get scared if their partner needs some space. They think, the end has come, we are going to breakup as my partner doesn't love me anymore. Well, if you are having such thoughts, then your love is weak in the first place. Second, if your partner is not going to come back after a break then you both were not meant to be together. Third, taking a break never means breaking up, Period.
A little time alone can help you connect with yourself.
Feeling of stress or resentment will most definitely come at some point in a relation. There would be a point where you will feel, "what am I doing here". Now, a relationship is based on compromises, we all do them in order to keep things healthy and happy in our relation. No two people are same and to maintain a level of harmony, we end up letting go part of ourselves in order to compromise the differences. In doing so, there can be times when you feel that your identity is lost completely and you start having stress and resentment towards your partner even though it's not related to him/her.
We all talk about relations where two people become one and in doing so we neglect ourselves as individuals. It becomes important to discover our own identity before it gets too late. Take some time apart to see yourself as an individual, connect with your own soul before you can go back and connect with your partner again. At least you will feel you are not lost and your identity is preserved.
Slow down to learn more about each other.
The initial days of a relationship are very exciting with holding hands, kissing, taking romantic strolls and maybe sex. Things move really fast as you feel on the seventh heaven and you don't want to stop all the happiness that is coming towards you. Well, when the excitement settles down and reality kicks in, you start to ponder that maybe you took things way too fast and you start getting stressed and scared.
I personally feel that in such cases also it is good to take a break. Just go somewhere away from each other for some time. When you come back, who knows you might be able to come back with better understanding of each other and revive the romance that you had when you first started. A space away from each other can end up bringing two people more close than they were ever before and make a bonding which can last really long.
If you think that taking a break will break you apart, then remember if there are issues that seem like a rock and do not go away, then you would have broken apart anyways down the line.
A break can help you re-evaluate your relation, connect you back to your individuality and can even help you understand the differences which all coupled together can make up for a solid platform for a long lasting and understanding relation.
But well no two relationships are same and sometimes a break can never bring back a couple together, like a broken vase, you can fix it with glue but you can never make it look like it was before. That is why I said, think it through, talk with your partner and then decide, "Do you need a break?"